Cleaning Services
At Sparkle we thrive on consistency. We set the bar high for other companies in Central Oregon, and we DELIVER!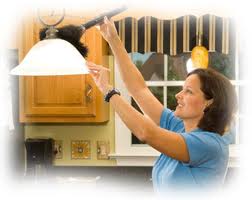 Here's what you can expect when setting up a residential clean with us. There are two options when scheduling a clean; one is having us come out and walk through your home with you, give you an estimate on the spot and getting you on the schedule for cleans.
Our second option and the most popular is scheduling that first initial clean with us. You will schedule a clean and the girls will come and meet with you, walk through the home and gain a sense of what your expectations are in regular cleans. Then the magic happens! The girls will do a "deep" clean on the house, scrubbing from top to bottom, getting all of the things we often forget about while cleaning our own home. Once they are done, either Donna or Nicole will contact you within 24 hours and give you a quote, hear some feedback and talk about scheduling.
Kitchen Cleaning Services
Clean sink – Everyone knows the kitchen sink is a potential hot bed for bacteria to grow if not cleaned properly. We make sure it's sanitized each time we clean your home.
Clean appliance exteriors – Stainless steel appliances are tough to keep clean, certainly from fingerprints, but are center pieces to your kitchen when sparkling clean. Sparkle cleaning services you can say goodbye to lack luster appliances.
Clean inside microwave – Don't you want the place that cook or heat food or beverage to be sanitized? Of course you do! Another place that we focus on each time we clean.
Clean range top – Clean and sanitized cleaning surface is safer for everyone, we make sure of that.
Damp wipe cabinet doors – Problem with grease is that it never stays in one place.  Over time the accumulation of grease on cabinets can be quite noticeable but you don't have to worry about anymore because we'll damp wipe each cabinet door.
Clean counters – High traffic areas such as the kitchen can be a tough place to keep clean, certainly countertops.  We sanitize your countertops with our special environmentally friendly cleaning solution to get rid of the bacteria but keep harmful chemical away from your family.
Hand wash floor – The floors in your kitchen are most likely the highest traffic area in your home and keeping them clean is our job, even if we have to get on our hands and knees.
Load dishwasher – Dirty dishes? No problem we'll load and start your dishwasher for you so you can take the day off.
All Rooms Cleaning Services
Pick up and straighten – An organized home goes a long way in make your life clutter free but more importantly stress free.  Our teams will pick up and straighten to make sure you enjoy your home after we've cleaned it.
Dust sills, ledges, wall hangings – Hard to reach places such as sills and ledges are often overlooked.  We make a point to get all of these locations no matter the location.
Remove cobwebs – Unsightly cobwebs are sometimes overlooked by the house owners when cleaning up the house. We have the equipment to clean all of these, no matter the location.
Dust/vacuum furniture – Dust on furniture is unsightly, getting rid of it is The cleaners primary goal.
Vacuum floors, carpets – Clean carpets make homeowners happy and that's what The Maids are all about. Making homeowners happy and getting your home as clean as possible.
Vacuum stairs – Don't get stuck lugging around those heavy vacuum cleaners in the stairs, that could be dangerous. Our special backpack vacuum cleaner makes vacuuming the stairs a breeze.
Vacuum under beds – Dust and dirt has a tendency to build up under beds, because it is difficult to reach with regular vacuum cleaners. We've got HEPA filter equipped backpack vacuum cleaner which makes cleaning under any size bed, a breeze. We'll also place new sheets on your bed.
Empty trash – Before we're finished, we'll make sure to take out the trash.
Bathrooms Cleaning Services
Clean sinks, counters; Change towels – Having a sanitized bathroom sink is important. Our environmentally safe cleaning products will make your bathroom smell fresh and clean.
Clean, disinfect toilets, tubs, showers – No one likes to clean shower and toilets. Sparkle cleaning will clean and disinfect both thoroughly.
Hand wash, disinfect floors – The floors in your bathrooms can be an overlooked task. We always makes it a point to clean the floors, even if we have to get on hands and knees.
Windows Clean entry window, one set of patio door windows – Entry windows are meant to be inviting, not full of dirty fingerprints.  The Maids will restore their shine and make your entry windows and doors clean and sparkle.
Clean window over kitchen sink – We will also clean the window over the kitchen sink.
We Are Here to Help People With Busy Schedules
Nearly all of our customers are business people as well as working professionals who may have absolutely no time for cleaning their home. An intensive house cleaning is indeed time-consuming. Our cleaners are available to help get your home cleaned whenever you don't have time to accomplish the job yourself. Allowing you to spend more time with your loved ones or to enjoy a beautiful day outside – or both!
Should you be looking for a house cleaning service company that is reliable as well as efficient, you should hire us! Leave the cleaning to use – you've got enough to worry about.